---
After a few days of feeling faint, I barely managed to wake up.
I got up as the dazzling sunlight came in, one hand clasping my messy hair.
This time as well, I was in the same bedroom again, but instead of that man, there were people who appeared to be servants surrounding me.
With their help, I was examined by Doctor Doppari and was diagnosed with, 'there is nothing wrong with Duchess Carlisle's body'.
The people next to me breathed a sigh of relief and examined my body once again, but did not approach me recklessly anymore.
They bowed their heads when I looked at them, as if they wouldn't know what to do if they met my eyes.
"Have you already sent word to the Imperial Palace? When is the master coming?"
"He is on his way right now."
As I listened to the echo of their voices surrounding me, I tried to organise my thoughts several times.
The man I saw before I fainted earlier called me 'Irwen', and the doctor called me 'Duchess Carlisle'.
No matter which way I looked at it, it became apparent that this wasn't a dream, nor reality, but a situation within a novel.
I could've never imagined this situation.
I, who was just a trainee and struggling hard to become a singer, would suddenly become a character in a story.
The body I possessed was the body of 'Irwen Lillias', a villainous wife who appeared at the beginning of a popular romance fantasy novel, 'Fervin and Stella', and disappeared when she died.
As a princess of a defeated country, she was the sacrifice that was offered to the Theresia Empire's imperial family.
After the five year war with the Theresia Empire, the defeated Verma Duchy sent the illegitimate and only daughter of the Grand Duke Verma as a peace offering to the Theresia Empire.
Grand Duke Verma's surname, 'Lillias', and her age, was also only given to her a few years ago, thanks to the push of her half brother who had found her.
However, since she was the only daughter who had the blood of Grand Duke Verma, the Imperial Family of Theresia accepted her as a reconciliation gift and married her to Duke Carlisle.
Fervin Carlisle, a ruthless desperado who pushed the Verma Duchy to the brink of destruction, the Emperor's right hand man and an influential figure of the empire.
As the marriage between Duke Carlisle and Irwen was pushed forward strongly, everything ended up progressing extremely fast.
In the novel, it is briefly stated that Irwen hated Fervin almost as much as he hated her.
However, in the sense of reconciliation with the Verma Duchy, the couple had to remain married for at least five years.
Their marriage, which had been creaking from the beginning of their marriage, creaked on for four more years.
Of course, news of the extremely valued successor had not been heard, and rumours quickly spread of Irwen who was not fulfilling the minimal duties of a duchess.
It was common for Irwen to lash out at the servants of the household, not make an appearance at any social gatherings, and even send the finest specialties of the Carlisle estate back to the Verma Duchy illegally.
Then one day, when not much of their married life remained.
Duke Carlisle, the Emperor's right hand who was called the Conqueror, suddenly collapsed while drinking wine in his bedroom.
Then the Duchess, Irwen, was named as the mastermind behind the plot.
Although she protested the injustice, she was still ultimately arrested as the prime suspect soon after that.
The fact that she had illegally robbed the Carlisle estates, offered goods to the Verma Duchy and always slandered her husband, made her into a prime suspect.
The Empire concluded that she had colluded with the Verma Duchy to kill Duke Carlisle and steal his properties.
It was only a matter of time before Irwen Lillias was executed for trying to kill Fervin Carlisle, a relative of the Imperial Family and hero of the Theresia Empire.
Naturally, no one believed her words, as she trembled with injustice.
Even her husband, Duke Carlisle, whom she had a relationship with due to her contractual marriage.
In the end, Irwen was ruined and met her death, while Fervin Carlisle remarried the esteemed daughter of the Count, Stella Bell, who devoted herself and cared for him with the utmost care.
Why did I have to possess Irwen's body, I resented and resented this fact countless times.
The body of such a foolish evildoer, and even one that was destined to die!
However, since I entered Irwen's body, I vowed not to live like this.
According to the servants, we had already been married for four years.
So, first off, my goal is to live quietly for the remaining year, divorce, then receive a villa as the alimony payment.
Alright, I'll just remain as Duke Carlisle's ex-wife in order to preserve my life.
After taking the first step, the next plan was swiftly made..
My top priority was to urgently figure out the current situation I was in as 'Irwen', and make a plan to ensure that I survive.
After much thought, I came to one conclusion.
First, I had to start accumulating virtue, kindness and benevolence and change the gazes of fear of those around me.
At that moment, the sound of the door opening was heard, and a man entered.
Everyone bowed their heads except for me, who was still staring at him.
"Duke."
"How are you feeling?"
The man came up to me and met my surprised gaze.
A man whose coat was worn in such a hurry that he hadn't even buttoned it all up yet, and hair that was blowing wildly in the wind.
Dazzling platinum blonde hair, a tall stature, slender body and alluring green eyes.
It was clear that this was Irwen's husband, and now my husband, Duke Fervin Carlisle.
When I first opened my eyes, was this the man who stayed by my side on the side of the bed?
Still looking at him, I saw Fervin's face stiffening.
It was evident that he felt uncomfortable with the eye contact we were making.
It was then that I remembered Irwen's perilous position in the novel.
Wasn't I a character who eventually died after being suspected of being behind the poisoning case due to my bad relationship with my husband?
I had just barely survived, I didn't possibly want to die again.
I didn't want to experience such a horrible feeling again.
So first, it's important for me to build the notoriety and reputation of 'a woman who can't possibly kill her husband'.
As if he could see my calculative thoughts, Fervin averted his eyes, seemingly uncomfortable with my staring.
"Since you seem fine now, I should probably go."
"Um…"
Without realising it, I grabbed his sleeve and pulled him closer.
The surrounding silent gazes that seemed as if they were watching a horror movie, and Fervin's cold gaze, as if asking me, 'What's wrong with you?'.
Where did the face that had appeared earlier when you opened the door to come in go?
Now all I could see were cold eyes that were facing me, as if I was the enemy.
My heart pounded from his frosty gaze.
"What?"
To him, who had barely responded with a concise reply in his low voice, I opened my mouth with a sense of 'oh, who cares'.
I had to try and live.
"Thank you, for coming here to see me."
I gathered my courage and spit out the following words, hearing several people around me fall down in surprise.
The servants started saying things like, 'How could madam say such a thing…', and 'Oh my god, I never would've thought to hear such a sentence come out from madam's lips…'.
Fervin was no exception, as he stood frozen on the spot with an absurd expression on his face.
He looked at me with bewildered eyes, as if I was crazy, his eyes trembling violently.
He opened his mouth slightly, as if to say something, but then closed them.
He then turned around and left the room in a hurry.
[ / / / ]
Fervin arrived at the study and rubbed his face with both hands.
He never imagined that after she fell, he would sneak up to see her at night and whisper to her countless times, hoping for her to wake up.
Even if people change, her change had simply been too big.
He immediately asked Mrs Tilly, who had followed him into the study.
"Did she lose her memory?"
"The doctor said it was too early to make a decision yet, but she is definitely acting as if she was someone else right now. The fact that her personality has changed and become more positive is evidence of that."
"Why would you change now?"
Fervin bit his lip nervously.
He asked Mrs Tilly, the maid who took care of Irwen from the moment she had collapsed until she woke up, about her condition again.
He wasn't the only one who was wondering about the Duchess' changed personality.
Everyone else in the mansion did as well.
Irwen, who always seemed to be shrouded in an angry aura, as if she had a thorn in her body, suddenly became kind, so it was only to be expected.
Besides, she, who had never even dealt with her husband directly before, saw Duke Carlisle and even said 'Thank you, for coming here to see me'.
Seeing her master lingering around the window, as if he was anxious, Mrs Tilly made a cautious suggestion.
"Maybe madam has finally thought it through and decided to repent? You know the saying, when a person gets sick, they become a different person. In the meantime, she may have grown tired of her resentful and prickly life and may be trying to restore her relationship with you, master."
"Don't give me any false hope."
The light of the sunset coming through the window dyed Fervin's beautiful face a hue of red.
Thanks to this, he was able to conceal his pounding heart that had caused the blood to involuntarily rush up and stain his face red.
He had fallen in love with her, proposed to her, and started off his married life with a determined mindset, but in the end his heart had hardened due to her coldness.
He thought it had already been frozen solid for four years, and had promised himself that he wouldn't allow himself to get hurt anymore.
However, it seemed as if a single crack had appeared in his frozen heart.
The heart that had betrayed his rational reasoning and started to beat again.
From the time Irwen had stared blankly at him with those big blue eyes.
Although he had been flustered and wanted to push her away in a panic, it couldn't be blocked.
As if a chaotic heart had suddenly taken over his whole body, he muttered involuntarily.
"…I'm going crazy."
[ / / / ]
The next few days were peaceful, but busy.
Although I was resting, I still learned various things about the mansion from Mrs Tilly, the housekeeper, and tried to make a friendly impression with the servants by acquainting myself with them and calling them by their names.
Of course initially, they had been repeatedly surprised and shocked by my changed appearance, but they didn't shun me like the first time.
I wanted to show Fervin a different side of me too, but didn't get a chance to these days.
Then, in the evening, after Duke Carlisle had been swarmed by people for a long time.
The kitchen was busily preparing as Duke Carlisle, who usually ate outside with the exception of breakfast, had said he would eat at home today.
It was said that in order to become friends, one must share a meal together, so I decided to have dinner with him.
"Madam."
A young maid came in with a basket full of freshly picked flowers.
The first day I entered Irwen's body, I, who had memorised the names of all the maids, stared at her.
So this was the head maid, Mrs Tilly's niece, Marianne.
As I smiled at her, Marianne avoided my eyes anxiously and hurriedly said what she had to say.
"Dinner is ready to be served. Since the master is here today, dinner will be served in here, as usual."
"No. Tell them that we'll eat together."
"Yes…yes?!"
"What, is it strange for us to eat together?"
"No, that's not what I meant, but…just that it's been a long time since the two of you have eaten together. No, actually, it might even be the first time."
Marianne wrung her hands nervously without realising it.
Although I was worried as well, I got up from my seat and prepared to get dressed first.
I was rummaging through the clothes in my closet as my hand caught on a bright red dress.
Since it was our first dinner together, I concluded that there was nothing wrong with leaving a good impression on him.
I looked at Marianne whilst holding a red V-neck dress.
She was still staring at me blankly.
"Can you help me get dressed?"
"Ah…yes!"
With Marianne's help, I put on the dress and observed her expressions.
Ever since I had opened my eyes in this place, I had already seen quite a few shocked expressions afterwards, but Marianne had a very confusing expression on her face.
I asked her as gently as possible.
"By any chance, are you afraid of me?"
"No…I'm not. It's not that, just that madam normally wears a black dress, but today, you chose a different colour…by any chance, madam, if you don't like us, please don't express it through your clothes and just tell us directly."
I took a deep breath as I watched Marianne speak out bravely in the midst of confused expressions.
No matter how many times I said so, the servants were still terrified of my changed appearance.
In the future, I would have no choice but to prove my changes with my actions.
Finally, it was time for me to put on makeup, as I sat down facing the dressing table and let my long black hair hang loose.
Marianne carefully applied the powder.
However, once, twice, three times…it was strange for her to pat so much powder on my face, to the point of applying it ten times.
Furthermore, my eyebrows were reapplied thickly with the charcoal soot ten times as well.
And she might as well have covered my lips with blood instead.
"Why are you applying it until I'm so white?"
"Madam normally wears her makeup like this."
"And the eyebrows too, I mean, the charcoal soot. I think it's too dark."
"This is how you always did it though…"
Marianne's voice began to tremble, as if she thought I was testing her.
I was horrified with Irwen's ghastly makeup tastes, which were never described in the novel.
I would rather not wear any makeup at all.
In the end, I removed all my makeup with water mixed with flour.
Meanwhile, Marianne brought the flowers from the basket and held them out to me.
"Madam, please choose flowers for your hair."
"…flowers?"
I slowly examined the flowers.
These were the many flowers that had bloomed in the garden.
I hesitated for a moment due to the sheer volume of flowers that were all displaying their beauty.
Marianne looked at me and picked up a bright red rose.
"How about I put in a rose?"
"Hmm…that's good too, but…oh! It's my favourite flower."
A lily of the valley placed in the corner caught my eye.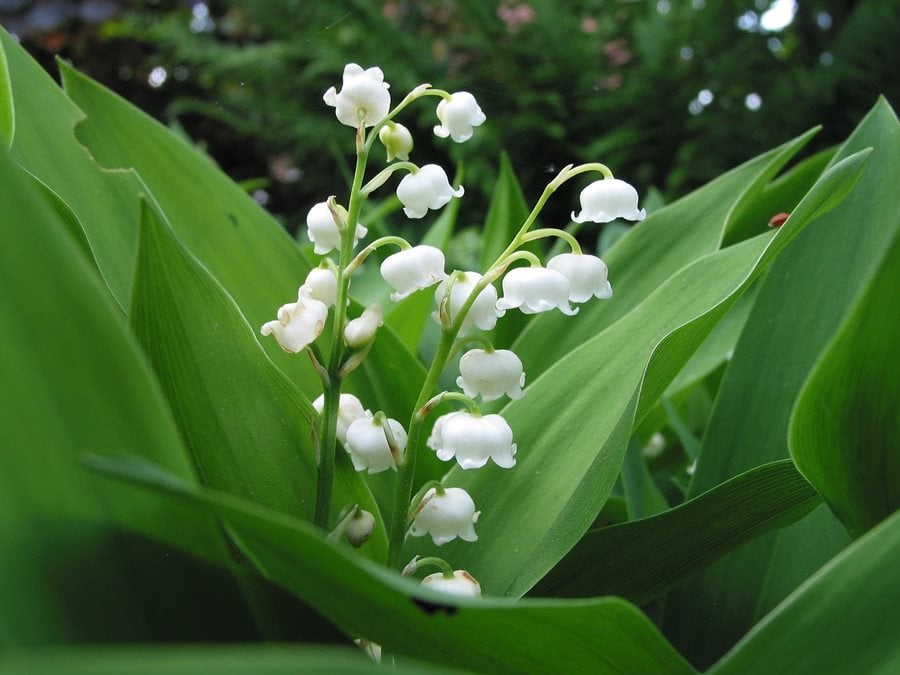 Lily of the valley, which had a subtle fragrance that suited my tastes exactly, was my favourite flower, ever since I was a child.
Marianne picked up a bunch of lily of the valleys and put them in my hair that was tied half up half down in a ponytail.
My reflection in the mirror seemed to be alright.
At least a bare face was better than that sort of makeup level.
I grabbed the hem of my long dress and went down to the drawing room.
I could hear Marianne muttering strangely about my bare face next to me.
"Should I send word for the master to make sure he properly prepares his heart, or not…"
---
AHHHHHH I HAD TO PAUSE SEVERAL TIMES WHILE TLING FERVIN'S THOUGHT PROCESS AHSDLFJSD he's literally the best ml so sweet SDLFKJFD i can't wait for irwen to start thawing his frozen heart im smiling so hard rn hAHALDSKDF when he said his frozen heart started beating again SDLFKJSDF ISN'T THAT EVERY GIRL'S DREAM ???? BYE he's so sweet literally best ml
also next week will be a full chapter since chapter 2 is quite short! in case yawl didn't know, check the loading zone for chapter statuses!